Eastern Shore
Forecast

Marine Forecast

Issued 10:00 AM AST 08 December 2021

Today Tonight and Thursday.

Gale warning in effect.

Wind light increasing to east 15 to 20 knots this evening and to northeast 35 late overnight. Wind backing to northwest 35 Thursday morning then diminishing to northwest 20 Thursday evening.

Rain or snow beginning this evening becoming snow after midnight and ending near noon Thursday. Visibility 1 mile or less in precipitation.

Temperatures near plus 2.

Strong wind warning program has ended for the season.

Waves

Issued 05:00 AM AST 08 December 2021

Today Tonight and Thursday.

Seas 2 to 3 metres subsiding to 1 to 2 this afternoon then building to 2 to 3 late overnight.

Issued 03:00 AM AST 08 December 2021

Friday

Wind northwest 15 to 20 knots diminishing to light in the afternoon.

Saturday

Wind southerly 20 to 25 knots increasing to southwest 35.

Sunday

Wind southwest 35 knots.

Issued 10:00 AM EST 8 December 2021

Today Tonight and Thursday

Ice free.
Weather Conditions

Zoom-in to make a selection

Legend:

Buoy

Land Station
Ice Conditions

Ice Forecasts

Issued 10:00 AM EST 8 December 2021

Today Tonight and Thursday

Ice Edge

First ice edge estimated from Quebec near 4909N 6625W to 4909N 6649W
to 4828N 6900W to 4901N 6810W to 4917N 6710W to 5004N 6610W to 4845N
6158W to Labrador near 5116N 5728W. Sea ice south then north of the
ice edge.

Second ice edge estimated from Prince Edward Island near 4628N 6237W
to 4721N 6425W to 4842N 6358W to Quebec near 4851N 6412W. Sea ice
west of the ice edge.

Third ice edge estimated from Nova Scotia near 4546N 6248W to Prince
Edward Island near 4558N 6244W. South of the ice edge. Ice west of
the ice edge.

Iceberg Bulletin

Issued 1:30 PM EST 7 December 2021

Iceberg Limit

Iceberg limit at 0000 UTC 8 Dec estimated from the Labrador coast
near 5202N 5550W to 5200N 5430W to 5245N 5000W to 5500N 4900W to
5745N 5715W to 6120N 5900W to 6205N 5355W to 5940N 4815W then
eastwards.

Iceberg Count

No confirmed icebergs.
Warnings

Warnings (In effect)

Eastern Shore

Issued 10:00 AM AST 08 December 2021

'Gale' force winds of 34 to 47 knots are occurring or expected to occur in this marine area. Watch for updated statements. Please refer to the latest marine forecasts for further details and continue to monitor the situation through Canadian Coast Guard radio or Weatheradio stations.
Synopsis

Technical Marine Synopsis

Issued 10:00 AM AST 8 December 2021

Today Tonight and Thursday

At 10:00 a.m. AST today ridge located from the Gaspe Peninsula to
East Scotian Slope.
By 8:00 p.m. AST tonight departing ridge located from Anticosti
Island to the Grand Banks.

At 3:30 p.m. AST today deepening low 1007 mb located southwest of
Georges Bank.
By 10:00 a.m. AST Thursday deepening low 984 mb located over East
Scotian Slope.

Marine Weather Statement

Issued 9:58 AM AST 8 December 2021

A developing low will approach the southern marine district late in
the day today and cross the slope waters on Thursday. This weather
system will bring widespread gale force winds tonight into Thursday.

Marine interests are advised that gale warnings are in effect for
Browns Bank, Georges Bank, southwestern shore, LaHave Bank, West
Scotian Slope, eastern shore, Sable, East Scotian Slope, Fourchu,
Banquereau, Laurentian Fan, and Cabot Strait.

A freezing spray warning is also in effect for Anticosti.
Atlantic - Maritimes Area
Another Region
Features
Hello Weather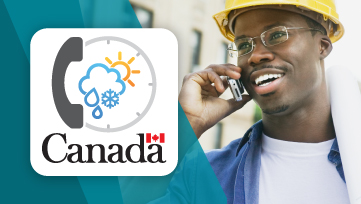 Hello Weather: our upgraded telephone weather service is here. 1-833-794-3556 or 1-833-79HELLO.