Northern Georgian Bay
Forecast

Marine Forecast

Issued 06:30 PM EST 16 January 2022

Tonight and Monday.

Wind southeast 15 knots backing to northeast 15 near midnight then increasing to northeast 25 late overnight. Wind backing to north 25 Monday morning then to northwest 25 Monday afternoon.

Scattered flurries Monday and Monday evening.

Strong wind warning program has ended for the season.

Waves

Issued 06:30 PM EST 16 January 2022

Tonight and Monday.

Waves 0.5 to 1 metre building to 1 to 1.5 late overnight then subsiding to 1 Monday evening.

Issued 06:30 PM EST 16 January 2022

Tuesday

Wind northwest 20 knots diminishing to light in the morning then increasing to southeast 30 late in the day.

Wednesday

Wind southeast 30 knots diminishing to northwest 20 late in the day.

Thursday

Wind north 20 knots diminishing to light late in the day.

Issued 12:00 PM EST 16 January 2022

Today Tonight and Monday

6 tenths new lake ice including 2 tenths thin lake ice except 9 plus tenths thin lake ice including 2 tenths medium lake ice along the northern shore.

*Ice Forecast and Warnings also apply to U.S. waters
Weather Conditions

Zoom-in to make a selection

Legend:

Buoy

Land Station
Ice Conditions

*Ice Forecast and Warnings also apply to U.S. waters

Ice Forecasts

Issued 12:00 PM EST 16 January 2022

Today Tonight and Monday

Ice Coverage

6 tenths new lake ice including 2 tenths thin lake ice except 9 plus
tenths thin lake ice including 2 tenths medium lake ice along the
northern shore.
Warnings

No watches or warnings in effect.
Synopsis

Technical Marine Synopsis

Issued 6:30 PM EST 16 January 2022

Tonight and Monday

At 6:30 p.m. EST tonight quasi-stationary trough located on a line
northeast-southwest over eastern Lake Superior.

By 6:30 p.m. EST Monday approaching low 982 mb located northeast
of Montréal.
Great Lakes - Lake Erie and Lake Ontario Area
Another Region
Features
Hello Weather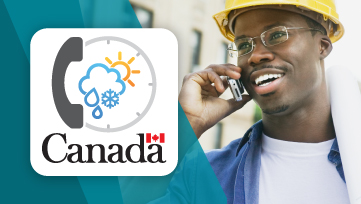 Hello Weather: our upgraded telephone weather service is here. 1-833-794-3556 or 1-833-79HELLO.