Nottingham - western half
Forecast

Issued 05:30 AM EST 24 January 2022

Forecasts have ended for the season.
Weather Conditions

Zoom-in to make a selection

Legend:

Buoy

Land Station
Ice Conditions

Ice Forecasts

Issued 3:27 PM EST 23 January 2022

Today Tonight and Monday

Ice Edge

Ice edge is outside the forecast region.

Ice Coverage

Ice pressure warning in effect.

9 plus tenths first-year ice. Strong ice pressure along The Baffin
Island coast easing this evening.
Warnings

Warnings (In effect)

Nottingham

Issued 3:27 PM EST 23 January 2022

Navigators in this marine area should be on the lookout for hazardous ice conditions and take necessary safety precautions. Please refer to the latest ice forecasts for further details and continue to monitor the situation through Canadian Coast Guard radio stations.
Synopsis

Technical Marine Synopsis

Issued 4:45 PM EST 22 December 2021

Tonight and Thursday

At 0000 UTC Thursday departing low 991 mb located at 68N 81W.

By 0000 UTC Friday high 1026 mb located at 70N 74W.

At 0000 UTC Friday warm front from 969 mb low located from 55N
57W to 64N 58W.

These are the last forecasts for the season.
Hudson - Hudson Bay Area
Another Region
Features
Hello Weather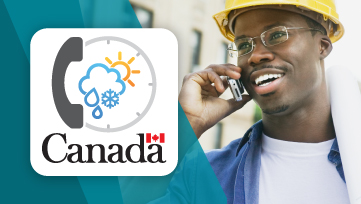 Hello Weather: our upgraded telephone weather service is here. 1-833-794-3556 or 1-833-79HELLO.