Hecate Strait - northern half
Forecast

Marine Forecast

Issued 10:30 AM PST 20 January 2022

Today Tonight and Friday.

Gale warning in effect.

Wind west 15 to 20 knots diminishing to west 10 to 15 early this afternoon then backing to south 10 to 20 this evening. Wind increasing to south 20 to 30 late overnight then becoming southeast 25 to 35 early Friday morning.

Showers ending this afternoon. Periods of drizzle Friday.

Waves

Issued 04:00 AM PST 20 January 2022

Today Tonight and Friday.

Seas 3 metres subsiding to 1 this morning then building to 2 Friday morning.

Issued 04:00 AM PST 20 January 2022

Saturday

Wind southeast 25 to 35 knots.

Sunday

Wind southeast 10 to 20 knots.

Monday

Wind northerly 5 to 15 knots becoming light.
Weather Conditions

Zoom-in to make a selection

Legend:

Buoy

Land Station
Ice Conditions

There is no ice forecast issued for this area.
Warnings

Warnings (In effect)

Hecate Strait - northern half

Issued 1:07 PM PST 20 January 2022

'Gale' force winds of 34 to 47 knots are occurring or expected to occur in this marine area. Watch for updated statements. Please refer to the latest marine forecasts for further details and continue to monitor the situation through Canadian Coast Guard radio or Weatheradio stations.
Synopsis

Technical Marine Synopsis

Issued 10:30 AM PST 20 January 2022

Today Tonight and Friday

At 10:30 a.m. PST today departing frontal system located on a line
north-south over the Lower Mainland.

At 10:30 a.m. PST today dissipating trough located over Queen
Charlotte Sound.

At 10:30 a.m. PST today ridge located west of the offshore waters.
By 4:00 a.m. PST Friday quasi-stationary ridge located over the
South Coast.

At 9:30 p.m. PST tonight quasi-stationary frontal system located
west of Bowie.

Marine Weather Statement

Issued 10:21 AM PST 20 January 2022

A weakened frontal system over the Lower Mainland will depart the
region this morning. In the wake of the system, gale force
Westerlies will continue through Juan de Fuca Strait this morning and
this evening before easing.

A trough over Queen Charlotte Sound this morning is maintaining
widespread strong to gale force westerlies across most outer and
offshore waters. The trough will rapidly weaken through the day and
the westerlies will ease to generally moderate speeds by this
afternoon.

Another frontal system will stall just west of Bowie tonight and
Friday. During this period, southerly gales will develop across
Bowie and parts of the northern waters.
Pacific - North Coast Area
Another Region
Features
Hello Weather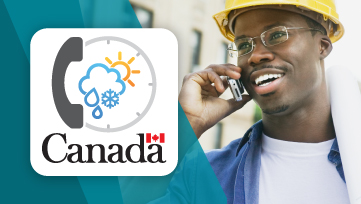 Hello Weather: our upgraded telephone weather service is here. 1-833-794-3556 or 1-833-79HELLO.