Alerts for: Assiniboia - Gravelbourg - Coronach
Warnings
10:16 AM CST Wednesday 19 January 2022
Extreme Cold Warning in effect for:
R.M. of Bengough including Bengough
R.M. of Elmsthorpe including Avonlea and Truax
R.M. of Excel including Viceroy Ormiston and Verwood
R.M. of Gravelbourg including Gravelbourg and Bateman
R.M. of Happy Valley including Big Beaver
R.M. of Hart Butte including Coronach
R.M. of Key West including Ogema and Kayville
R.M. of Lake Johnson including Mossbank and Ardill
R.M. of Lake of The Rivers including Assiniboia
R.M. of Old Post including Wood Mountain and Killdeer
R.M. of Poplar Valley including Rockglen and Fife Lake
R.M. of Stonehenge including Limerick and Congress
R.M. of Surprise Valley including Minton and Regway
R.M. of Sutton including Mazenod Palmer and Vantage
R.M. of Terrell including Spring Valley and Cardross
R.M. of The Gap including Ceylon and Hardy
R.M. of Waverley including Glentworth and Fir Mountain
R.M. of Willow Bunch including Willow Bunch and St Victor
R.M. of Wood River including Lafleche Woodrow and Melaval
A prolonged period of very cold wind chills is expected.

Cold, arctic air spread over the Prairies overnight as a ridge of high pressure tracks through the region.

Temperatures near minus 30 combined with winds up to 15 km/h continue to give extreme wind chill values near minus 40 throughout much of southern Saskatchewan.

These extreme wind chills will moderate slightly during the day today, but will return again tonight for most regions.

A system moving through the area on Thursday will push warmer air through the region and bring an end to the extreme cold warnings.
Please continue to monitor alerts and forecasts issued by Environment Canada. To report severe weather, send an email to SKstorm@ec.gc.ca or tweet reports using #SKStorm.
Features
Hello Weather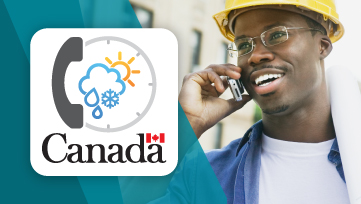 Hello Weather: our upgraded telephone weather service is here. 1-833-794-3556 or 1-833-79HELLO.