Alerts for: Melfort - Tisdale - Nipawin - Carrot River
Warnings
10:26 AM CST Monday 24 January 2022
Extreme Cold Warning in effect for:
R.M. of Arborfield including Arborfield and Zenon Park
R.M. of Barrier Valley including Archerwill and McKague
R.M. of Bjorkdale including Greenwater Lake Prov. Park
R.M. of Connaught including Ridgedale and New Osgoode
R.M. of Flett's Springs including Beatty Ethelton and Pathlow
R.M. of Invergordon including Yellow Creek and Tarnopol
R.M. of Kinistino including Kinistino and James Smith Res.
R.M. of Lake Lenore including St. Brieux
R.M. of Moose Range including Carrot River and Tobin Lake
R.M. of Nipawin including Nipawin Aylsham and Pontrilas
R.M. of Pleasantdale including Naicam and Pleasantdale
R.M. of Star City including Melfort and Star City
R.M. of Three Lakes including Middle Lake and St Benedict
R.M. of Tisdale including Tisdale Eldersley and Sylvania
R.M. of Torch River including Choiceland and White Fox
R.M. of Willow Creek including Gronlid and Fairy Glen
A period of very cold wind chills is expected.

An Arctic ridge of high pressure continues to build southward across Saskatchewan today.

Temperatures in the minus thirties combined with winds up to 15 km/h are giving wind chill values of -40 or colder this morning across parts of central Saskatchewan.

Temperatures will moderate slightly during the day today but extreme cold will likely return overnight tonight across a larger portion of central and eastern Saskatchewan. It is likely that this extreme cold warning will be expanded this afternoon.
Extreme cold puts everyone at risk.

Cover up. Frostbite can develop within minutes on exposed skin, especially with wind chill.

If it's too cold for you to stay outside, it's too cold for your pet to stay outside.

Extreme cold warnings are issued when very cold temperatures or wind chill creates an elevated risk to health such as frost bite and hypothermia.

Please continue to monitor alerts and forecasts issued by Environment Canada. To report severe weather, send an email to SKstorm@ec.gc.ca or tweet reports using #SKStorm.
Features
Hello Weather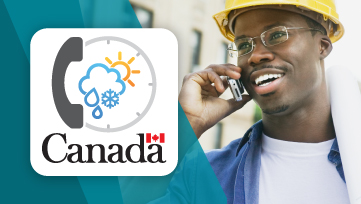 Hello Weather: our upgraded telephone weather service is here. 1-833-794-3556 or 1-833-79HELLO.