Alerts for: Prince Albert - Shellbrook - Spiritwood - Duck Lake
Warnings
4:29 AM CST Thursday 20 January 2022
Extreme Cold Warning in effect for:
City of Prince Albert
District of Lakeland including Emma Lake and Anglin Lake
R.M. of Birch Hills including Muskoday Res.
R.M. of Buckland including Wahpeton Res. and Spruce Home
R.M. of Canwood including Debden and Big River Res.
R.M. of Duck Lake including Duck Lake and Beardy's Res.
R.M. of Garden River including Meath Park and Albertville
R.M. of Leask including Leask Mistawasis Res. and Parkside
R.M. of Meeting Lake
R.M. of Paddockwood including Candle Lake and Paddockwood
R.M. of Prince Albert including Davis
R.M. of Shellbrook including Sturgeon Lake Res.
R.M. of Spiritwood including Spiritwood and Leoville
R.M. of St Louis including One Arrow Res. and Domremy
Cold, arctic air has spread over the Prairies as a ridge of high pressure tracks through the region.

Temperatures near minus 30 combined with winds up to 15 km/h maintained extreme cold wind chill values near minus 40 throughout much of southern Saskatchewan.

As a system tracks towards the area, temperatures will start to moderate this morning, and these extreme cold warnings will be ended.
Watch for cold related symptoms: shortness of breath, chest pain, muscle pain and weakness, numbness and colour change in fingers and toes.

Dress warmly. Dress in layers that you can remove if you get too warm. The outer layer should be wind resistant.

Keep emergency supplies in your vehicle such as extra blankets and jumper cables.

If it's too cold for you to stay outside, it's too cold for your pet to stay outside.

Please continue to monitor alerts and forecasts issued by Environment Canada. To report severe weather, send an email to SKstorm@ec.gc.ca or tweet reports using #SKStorm.
Features
Hello Weather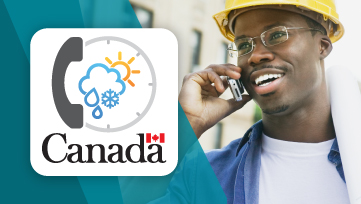 Hello Weather: our upgraded telephone weather service is here. 1-833-794-3556 or 1-833-79HELLO.