Alerts for: Kamsack - Canora - Preeceville
Warnings
1:11 AM CST Monday 25 January 2021
Extreme Cold Warning in effect for:
R.M. of Buchanan including Buchanan Amsterdam and Tadmore
R.M. of Clayton including Norquay Stenen and Swan Plain
R.M. of Cote including Kamsack Togo and Duck Mountain Prov. Park
R.M. of Good Lake including Canora and Good Spirit Lake Prov. Park
R.M. of Hazel Dell including Lintlaw and Hazel Dell
R.M. of Insinger including Theodore and Sheho
R.M. of Invermay including Invermay and Rama
R.M. of Keys including The Key Res.
R.M. of Livingston including Arran
R.M. of Preeceville including Preeceville and Sturgis
R.M. of Sliding Hills including Veregin Mikado and Hamton
R.M. of St Philips including Pelly and St Philips
A period of very cold wind chills is expected.

An arctic ridge of high pressure will keep skies clear and allow temperatures to plummet over central portions of Saskatchewan and Manitoba once again tonight. Temperatures in the minus thirties along with winds of 10 to 15 km/h will produce extreme cold windchills of minus 40 or colder for a second consecutive night. Temperatures are expected to moderate slightly Monday morning. However, extreme cold could return for a third night to some areas Monday evening into Tuesday.
Extreme cold puts everyone at risk.

Risks are greater for young children, older adults, people with chronic illnesses, people working or exercising outdoors, and those without proper shelter.

Cover up. Frostbite can develop within minutes on exposed skin, especially with wind chill.

If it's too cold for you to stay outside, it's too cold for your pet to stay outside.

Please continue to monitor alerts and forecasts issued by Environment Canada. To report severe weather, send an email to SKstorm@canada.ca or tweet reports using #SKStorm.
Features
Need to travel Alberta Highway 93?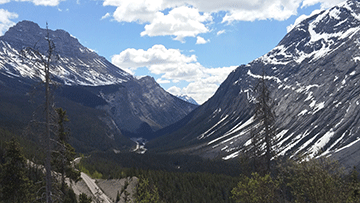 Go prepared with Highway 93 forecasts. Highway regions are available in the Alberta text forecast bulletin between Lake Louise and Jasper. (Photo by: Natalie Anderson)