Alerts for: Montmagny - L'Islet
Warnings
11:40 PM EST Monday 17 January 2022
Snowfall warning in effect for:
Saint-Fabien - Saint-Pamphile area
Additional snowfall amounts of 5 to 10 centimetres are expected.

Visibilities could be reduced in blowing snow.

Weather conditions will improve overnight.
Rapidly accumulating snow will make travel difficult. Visibility may be suddenly reduced at times in heavy snow.

Snowfall warnings are issued when significant snowfall is expected.

Please continue to monitor alerts and forecasts issued by Environment Canada. To report severe weather, send an email to QCstorm@ec.gc.ca or tweet reports using #QCStorm.
Features
Hello Weather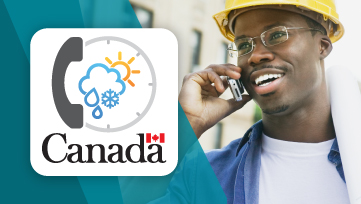 Hello Weather: our upgraded telephone weather service is here. 1-833-794-3556 or 1-833-79HELLO.