Alerts for: Cornwall - Morrisburg
Statements
7:21 AM EST Wednesday 19 January 2022
Weather advisory in effect for:
Cornwall - Lancaster
Maxville - Alexandria
Morrisburg - Long Sault
Winchester - Newington
Winter weather travel advisory in effect.

What:
Additional snowfall accumulation of 2 cm.
Risk of freezing drizzle.

When:
Now through this evening.

Discussion:
A risk of freezing drizzle late this morning and early this afternoon before temperatures moderate this afternoon. A sharp cold front will push through the region early this evening causing temperatures to abruptly drop below freezing. The combination of accumulating snow, freezing drizzle, and falling temperatures will make for hazardous road conditions, particularly for untreated surfaces.
Motorists should expect hazardous winter driving conditions and adjust travel plans accordingly. Be prepared to adjust your driving with changing road conditions. Surfaces such as highways, roads, walkways and parking lots may become icy and slippery.

For road conditions and other traveller information from the Ministry of Transportation, visit https://www.ontario.ca/511, https://www.twitter.com/511Ontario, or call 5-1-1.

Please continue to monitor alerts and forecasts issued by Environment Canada. To report severe weather, send an email to ONstorm@ec.gc.ca or tweet reports using #ONStorm.
Features
Hello Weather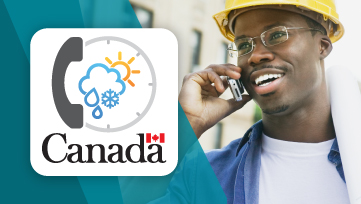 Hello Weather: our upgraded telephone weather service is here. 1-833-794-3556 or 1-833-79HELLO.