Alerts for: Fort Hope - Webequie
Warnings
2:20 PM EST Tuesday 18 January 2022
Extreme Cold Warning in effect for:
Fort Hope - Lansdowne House - Ogoki
Webequie
A multi-day episode of very cold wind chills continues.

Hazards:
Wind chill values near minus 45.
Minimum temperatures between minus 30 and minus 33 degrees Celsius.

When:
Now through Thursday morning. Temperatures and wind chill values will temporarily moderate in the afternoon before dropping again in the evening.
Extreme cold puts everyone at risk.

Risks are greater for young children, older adults, people with chronic illnesses, people working or exercising outdoors, and those without proper shelter.

Dress warmly. Dress in layers that you can remove if you get too warm. The outer layer should be wind resistant.

Cover up. Frostbite can develop within minutes on exposed skin, especially with wind chill.

Extreme cold warnings are issued when very cold temperatures or wind chill creates an elevated risk to health such as frost bite and hypothermia.

Please continue to monitor alerts and forecasts issued by Environment Canada. To report severe weather, send an email to ONstorm@ec.gc.ca or tweet reports using #ONStorm.
Features
Hello Weather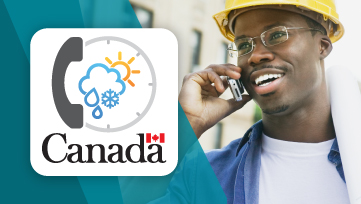 Hello Weather: our upgraded telephone weather service is here. 1-833-794-3556 or 1-833-79HELLO.