Alerts for: High Level - Rainbow Lake - Fort Vermilion - Mackenzie Hwy
Warnings
4:55 AM MST Tuesday 18 January 2022
Extreme Cold Warning in effect for:
Co. of Northern Lights near Paddle Prairie Smt
Mackenzie Co. near Bistcho Lake
Mackenzie Co. near Fort Vermilion
Mackenzie Co. near High Level and Bushe River Res.
Mackenzie Co. near Indian Cabins and Steen River
Mackenzie Co. near John D'or Prairie and Fox Lake
Mackenzie Co. near La Crête and Buffalo Head Prairie
Mackenzie Co. near Meander River and Lutose
Mackenzie Co. near Rainbow Lake Zama Lake and Chateh
Mackenzie Co. near the Caribou Mountains
Mackenzie Co. near the Tallcree and Wadlin Lake Reserves
Mackenzie Co. near Zama City
Extreme cold wind chill values near -40 will continue this morning.

Conditions may moderate slightly by the afternoon but a return to wind chill values near -40 is expected this evening. Temperatures should moderate by Wednesday.
Extreme cold puts everyone at risk.

Dress warmly. Dress in layers that you can remove if you get too warm. The outer layer should be wind resistant.

If it's too cold for you to stay outside, it's too cold for your pet to stay outside.

Please continue to monitor alerts and forecasts issued by Environment Canada. To report severe weather, send an email to ABstorm@ec.gc.ca or tweet reports using #ABStorm.
Features
Hello Weather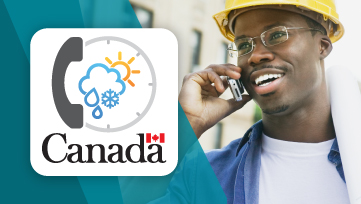 Hello Weather: our upgraded telephone weather service is here. 1-833-794-3556 or 1-833-79HELLO.